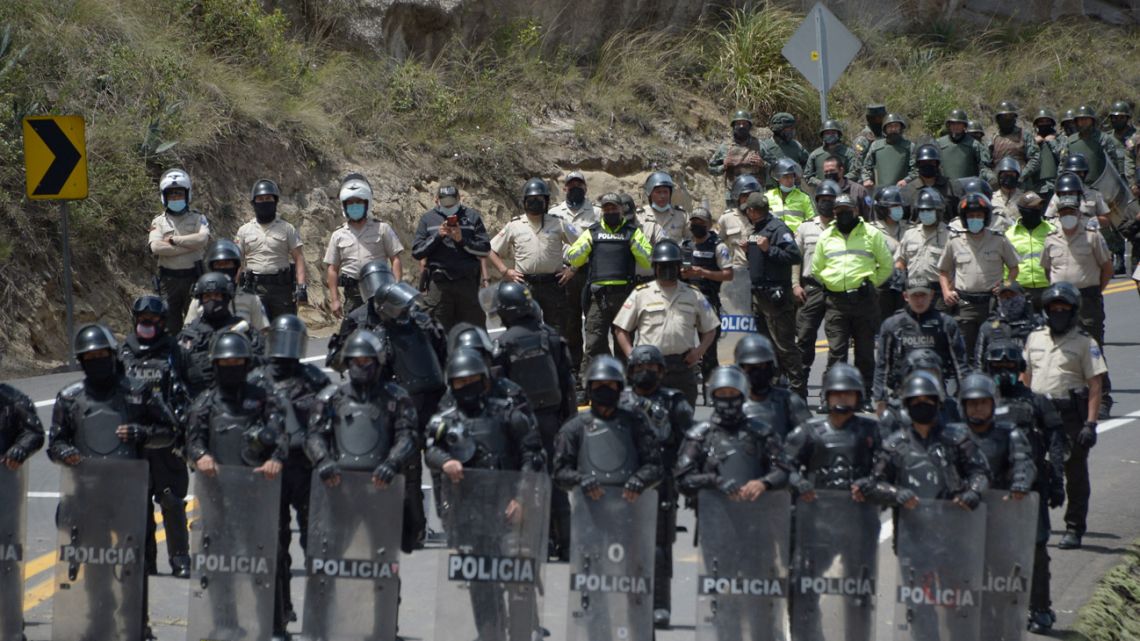 Buenos Aires Hours | Indigenous and rural Ecuadorians block roads as fuel price protests escalate
Indigenous and rural Ecuadorians blocked roads in several provinces on Wednesday on the second day of protests against soaring fuel prices amid a nationwide state of emergency.
On Tuesday, 37 people were arrested and five police officers, a journalist and at least one protester injured in the biggest protests since Conservative President Guillermo Lasso took office in May.
Protesters disrupted traffic on Tuesday in five of Ecuador's 24 provinces and vowed to continue to demonstrate their discontent with the economic policies of the new center-right government.
"The government messed up by pushing fuel prices up all the time," protester Dennis Viteri, a 28-year-old textile worker, told AFP in Calderón, northeast of the capital Quito.
Viteri and others used dirt, tree trunks and burning tires to block part of the Pan-American Highway that connects Quito to Colombia.
Under AFP's watch, other trees were felled on a nearby hill to reinforce the barricade.
Ecuador's public security department said there were also roadblocks on Wednesday in Imbabura, Cotopaxi, Tungurahua and Chimborazo provinces.
Violence, difficulties
The reduction in fuel subsidies, which began under former President Lenín Moreno, is a way for Ecuador to cut spending in return for loans from the International Monetary Fund.
But the price hike is biting as Ecuador faces economic hardship made worse by the coronavirus pandemic. The external debt amounts to nearly 46 billion dollars, or 45% of the GDP.
Poverty affects around 47 percent of Ecuadorians today and almost a third do not have a full-time job.
Teacher Fabiola Gualotuna, among Zumbahua protesters, said she felt abandoned by Lasso.
"He said he was going to increase teachers' salaries," she told AFP. "Some of us teachers walk seven or eight kilometers and earn a pittance. It's not fair."
Last Friday, Lasso announced a 12% increase in fuel prices, which have nearly doubled since last year – bringing the price of diesel to US $ 1.90 per gallon (3.8 liters) and that of gasoline at US $ 2.55.
Lasso promised it would be the latest increase, but couldn't quell the smoldering anger in a country that exports oil but imports much of the fuel it consumes.
He tweeted that the "paralysis" of the protest meant "economic losses for small businesses, which support thousands of Ecuadorian families and households."
The Confederation of Indigenous Nationalities of Ecuador (Conaie), which has called for the protests, wants the price to be capped at US $ 1.50 for diesel and US $ 2 for gasoline.
First day of protest
Officials said about 1,500 indigenous people, students and workers marched in Quito on Tuesday, where protesters throwing stones clashed with police who responded with tear gas.
"I came to pick up my three children, who have been unemployed since last year. They helped me eat and we are all suffering, we are desperate," Maria Elena Ponce, 58, told AFP.
"We will continue towards a second day of mobilization and resistance at the national level," promised the president of Conaie, Leonidas Iza.
The government had warned that it would take measures to "prevent the closure of roads" to passengers and goods, and police and soldiers have been deployed across the country to monitor protesters.
In the late afternoon, clashes broke out near the cordoned off presidential palace between protesters throwing stones and the police, who responded by firing tear gas.
Authorities said at least 37 arrests had been made, five police officers injured and two soldiers captured by protesters in an Andean village were in good health.
A young protester was injured in the forehead after being hit by a tear gas canister, according to an AFP journalist, while press freedom organization Fundamedios said a journalist was shot in the leg by a rubber bullet fired by the police.
Emergency state
Lasso declared a 60-day state of emergency last week to tackle growing crime and violence blamed on dueling drug traffickers in the country nestled between the world's two largest cocaine producers: Colombia and the Peru.
The state of emergency, declared after some 240 gang-aligned inmates have been killed in horrific prison clashes since January, allows for the deployment of troops to help tackle a wave of crime that has also claimed responsibility. Ecuador's 200m world sprint bronze medalist Álex Quiñónez last week in a shootout in Guayaquil.
No restrictions were placed on rallies or demonstrations.
"We collectively made this decision [to protest] in the face of new economic measures which are increasingly crushing our populations, our transport workers and our communities, "protest organizer Julio Cesar Pilalumbo told AFP.
"We will resist and we will not give in to any repression," he told a roadblock in Zumbahua, central Ecuador, where women in ponchos armed with shovels and sticks were helping men move around. large stones to block circulation.
In addition to Ecuador's many challenges, Lasso faces a parliamentary inquiry into the Pandora Papers revelations that he hid millions of assets abroad.
Indigenous peoples make up 7.4 percent of Ecuador's 17.7 million people, and Conaie is credited with helping topple three presidents between 1997 and 2005.
by Paula López & Santiago Piedra Silva, AFP