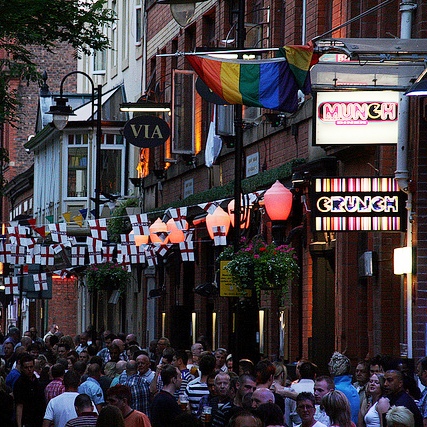 "Disturbing Pride is too straight": the concern of a member of the Manchester Gay Village community about the future of the festival
By Alan Ross
A prominent figure in the Manchester village community, Julia Grant, spoke to MM to express his concern about Manchester Pride.
Ms Grant recently wrote an open letter to the media about pride and chaired a meeting last week titled "Better Rethink".
At the meeting, the possibility of setting up a village community alliance was discussed to help stop the "decline and fall" of the village.
Ms Grant, who ran Gayfest in 2000 and 2001, wants the LGBT community to be involved in the planning and consultation process if a new event to replace Pride is organized.
"I am deeply disturbed to hear the news circulating in the gay village and the gay community that there are problems in the Manchester Pride offices," Ms Grant wrote.
"I think that sends a message to everyone that something is wrong with Manchester Pride 2013."
The pride has been criticized for straying from the origins of the event and Ms Grant believes this is something that needs to be changed.
"The fun is gone. You don't need the names of the headlines because there is a lot of local talent that would go on for free, "she told MM.
"All those £ 28 tickets – that's not what people want. They don't want Rylan. They want it to be a community event.
She believes the event needs to be rebranded and focus on the LGBTQ community and not broader business success.
"When it was Gayfest, it was very gay. The word was in the name, "she told MM.
"But since you had Manchester Pride, it should be Manchester Gay Pride – a gay event. If it was a gay event, many [straight] people will not come down.
"I would say on that Pride that just went off, I was there every day, it was 75% straight."
Manchester resident Adam Prince, who supports Ms Grant's community alliance proposal, expressed his displeasure with the decline in Pride's charitable giving in a letter to the media.
"I believe the gay community is growing increasingly disgusted by this appalling legacy of a model of pride that has clearly failed the community," he wrote.
"I sincerely hope that this appalling model will no longer be supported by Manchester City Council."
In his letter, Mr Price cites a number of concerns he has regarding the issues facing the LGBTQ community in Manchester and in the village itself.
"This is a demand for stronger leadership and for the support of a community model for the village, its investment and its pride," he continued.
"Now is the time for action and whatever small part I can play in this movement and its progression."
Paul Wheatley, who recently forced Pride to change statements made in catering bidding for this year's event after appealing to the Advertising Standards Authority, also believes Pride is having a negative effect.
"Perhaps without realizing it, LGBT people withdrew from Canal Street and therefore mixed up straight / LGBT socialization," he told MM.
"I think the same thing happened at Pride and I know for a fact that a lot of LGBT people stopped going there a long time ago because they don't think it's for them.
"They are not in retirement homes, stubborn or disinterested in current music; they just don't want to factor in our straight guests who don't want to acknowledge that this is an event for LGBT people in a place called the gay village and the many other things about the setup current pride that makes people's blood boil. "
Manchester Pride did not respond to requests for comment.
Image courtesy of Emilestefanov, with thanks
To learn more about this story and more, follow Mancunian Matters on Twitter and Facebook.