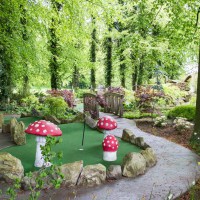 Realscreen "Archive" C4 and MGM TV to follow construction of the "magical" village of Alnwick Castle
UK broadcaster Channel 4 and MGM Telvision secured access to building the £ 15million 'magical village' at Alnwick Castle for the six-part series The Duchess (w / t).
The 6×60 minute series follows life at home with the Duchess of Northumberland as she embarks on a project to create a 'whimsical wonderland' near Alnwick Garden (pictured).
Alnwick Castle, known as 'the Windsor of the North', is the second largest inhabited castle in England and is home to the Duke and Duchess of Northumberland and their family.
C4 and MGM TV will go behind the scenes of the construction of the village, named Lilidorei, which will feature fairy caves and goblin lairs.
The Duchess (w / t) was commissioned by Jo Street, Day & Features Manager, and Clemency Green, Editor, Day & Features.
The executive producers are Dominic Bird and Vicky Hamburger.
Bird, senior vice president of international unscripted television at MGM Television, said in a statement: "With rare access to Her Grace alongside the incredibly ambitious project she is about to undertake, it promises to 'being an extremely hectic business as The Duchess of Northumberland juggles the formal and the personal commitments with her biggest challenge of all time.